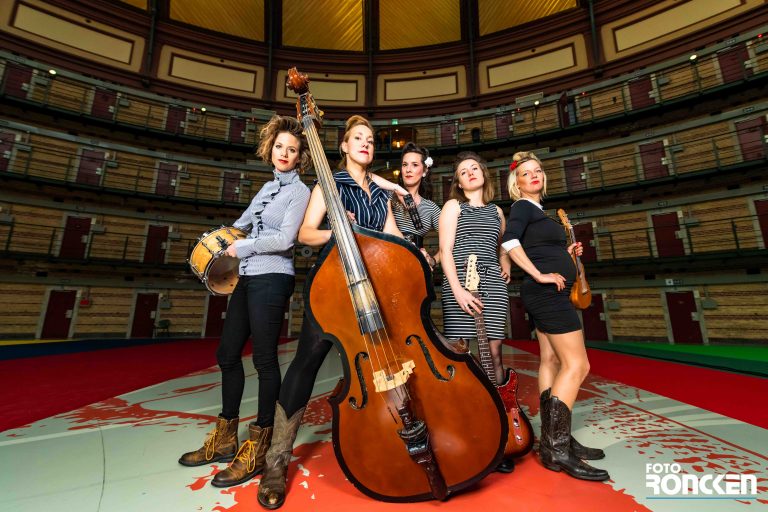 Bootleg Betty
On this page you can read all about Bootleg Betty. If you need more detailed information, please contact us.
Bootleg Betty
Bootleg Betty hurls you into all corners of the roots music. Full of energy, this Dutch band fires its polyphonic mix of rockabilly, country and rock and roll at you. Their contemporary approach to these traditional genres results in a recognizable sound which is anything but outdated.
This can be heard on debut EP Left the Barn, released on the brand new Kroese Records label founded by record store Kroese. The sold-out release show one week later marked the start of a tour at venues and festivals. With the release of the music video for single A Song Called Wanda – a tribute to rockabilly star Wanda Jackson – the band continued its tour. Their contagious live shows helped them gain invitations for big festivals like Paaspop, Bevrijdingsfestival Zwolle and Zwarte Cross within a year. In 2020 the band will release it's new album Soul Searching. A fresh new album with a lot of new experiments and influences without losing the recognizable Bootleg Betty Roots Feel.
Media about Bootleg Betty:

"Bootleg Betty leaves an impression to be proud of with their ep Left the Barn. It can be hard to stand out in the crowded world of pop music nowadays, yet this talented quintet has exactly what it takes." – 3voor12 Gelderland

"The five sunny songs on this EP do not only reflect rampant fun, but also guarantee a lot of live entertainment." – KindaMuzik

"Anyone who saw Bootleg Betty pouring out their rock and roll, country and rockabilly at their live shows before knows that this band can bring a smile to the face of any spectator." – 3voor12 Gelderland

"Bootleg Betty makes quite an impression today at MOM Fest. Visitors even speak of the best opening act ever." – Brabants Dagblad
Bootleg Betty
Karlijn Wolsing               Lead vocals
Daphne Verlinden          Upright bass, backing vocals
Anneke Zeegers             Guitar, banjolele, blues harp, backing vocals
Merel van Oven              Drums
Geena Dee                      Guitar, backing vocals
Contact
Bookings:

 info@monkeyman.nl


 +31 (0)49 7540054
Information:
info@bootlegbetty.nl
06-51107367
Social 

Downloads

   Presskit Bootleg Betty (ENG)
Video